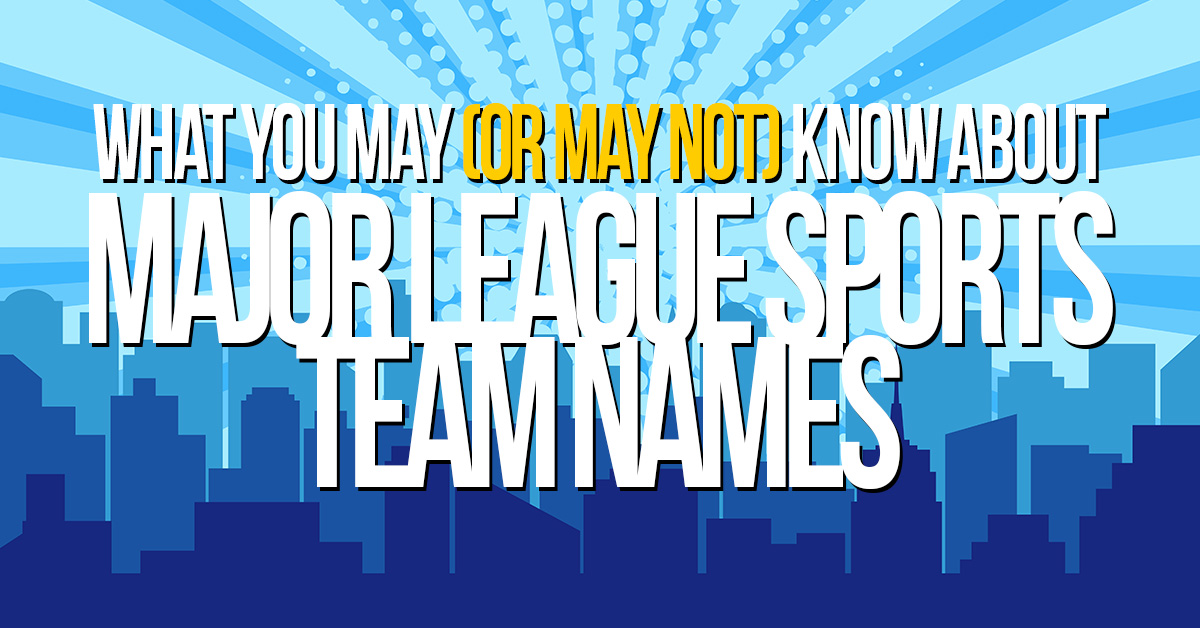 What You May (Or May Not) Know About Major League Sports Team Names
It may take us a while to get used to some new major league sports franchise names that have recently changed. The toughest may be referring to baseball's Cleveland Indians as The Guardians. But just as we got used to calling the Redskins the Washington Football Team, they have become the Commanders. These two franchises are not the only major league team names inspired by Native American tribes, however. We still have baseball's Braves, the NFL's Chiefs, the NBA's Warriors and the National Hockey League's Blackhawks.
But what has inspired the names of other sports franchises?
Birds frequently play a role, as in the Cardinals, Blue Jays, Orioles, Falcons, Ravens, Hawks, Seahawks, Pelicans, Eagles, Mighty Ducks and the Pittsburgh Penguins.
Colors are often a focal point, as in the Reds, Red Sox, Red Wings, Blue Jays, Blues, Blue Jackets and White Sox. The Browns were not named for the color, nor their legendary running back Jim Brown. They were named after original coach Paul Brown, who, by the way, went on to start the Cincinnati Bengals.
There are names with spiritual and mystical overtones, like the San Diego Padres, The New Orleans Saints, Orlando Magic, Washington Wizards and the Devil Rays (now just The Rays).
Some teams have taken a swashbuckling approach, like the Raiders, Buccaneers, Cavaliers and Pirates.
If you want to see the Lions and Tigers, head to Detroit but the Bears (oh my) play in Chicago.
Perhaps no league has better city-centric nicknames than the NBA. They have the Indianapolis Pacers, Miami Heat, Detroit Pistons, San Antonio Spurs, Denver Nuggets, Philadelphia 76ers, Houston Rockets, Oklahoma City Thunder and Phoenix Suns. Now, how Utah and Jazz got together is another story.
Some sports team names have been at the suggestion of fans or have been decided in a contest. Each has its own history and back story.
What's the story behind your insurance coverage? Has it been carefully crafted or patched together? Are you getting the best prices and taking advantage of every discount? We can help. Contact one of our independent insurance agents for a complete review of your auto, home, life and even business insurance. There's no cost or obligation to get your review and price quote today!